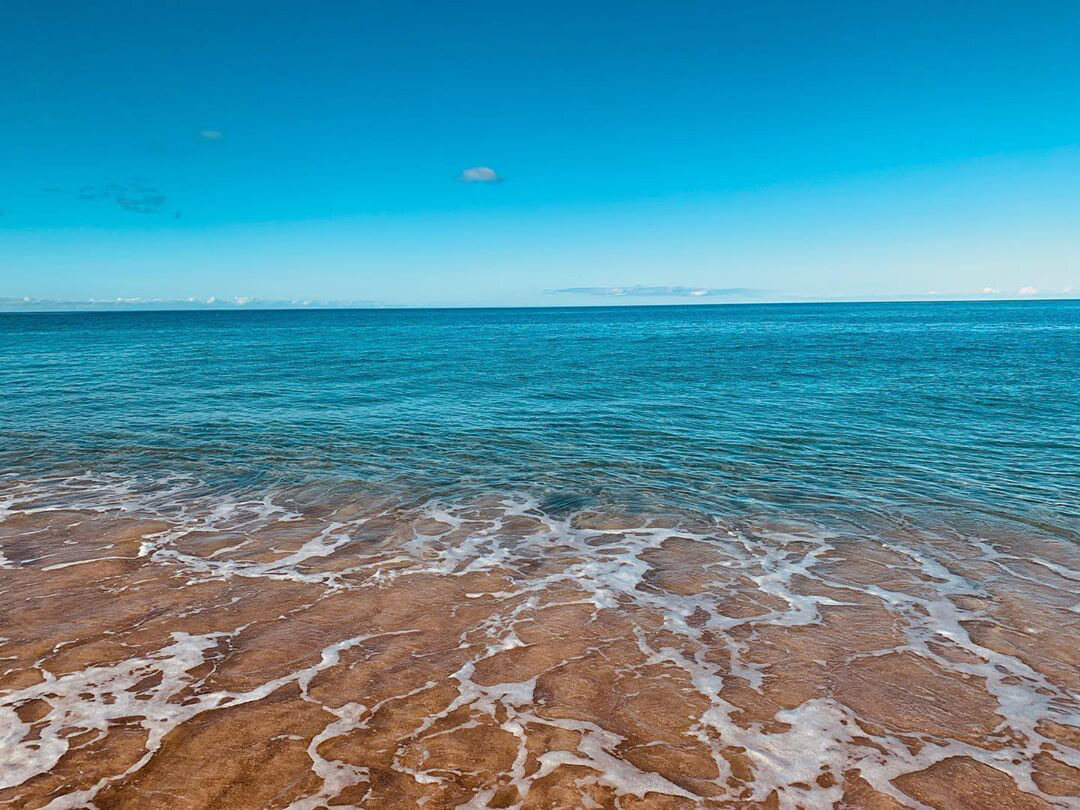 June 7, 2020: Our Earth is alive, and conditions are always changing – from place to place, minute to minute, throughout the day, malama or moon cycle, and seasons of the year. Every beach and trail are unique, and environmental conditions will affect safety differently. Moving even a few steps down the beach or up a trail can change the hazards. Knowing your limits and identifying the hazards, the beginning and end of the @nakamakai KAI acronym, is about observing and learning that never stops – like Duane DeSoto shared with us yesterday. @oceansafetyohana wants to remind you to take the time to kilo – observe closely – the conditions when out on huakaʻi. The most important conditions to pay attention to might be the way you feel. Be sure to keep checking in with your naʻau, and #whenindoubt #dontgoout and always do your best to research and prepare for likely conditions #knowbeforeyougo
⠀
This week, the south shore of the islands received a good sized swell – common in the summer months. This week's full moons also meant more significant tides, and solid easterly trade winds were blowing. Monday morning, we observed very calm conditions at Mākaha as the beach recovered from an overly crowded weekend, but by Thursday morning the swell was overhead and tides were powerful, presenting a whole new range of hazards – and opportunities for great surfing. Weekday early mornings don't see many crowds, but when we're at the beach, out in the lineup, or up on the trails on the weekends we have to consider a whole new set of hazards due to the amount of people around us. No matter when and where you go out on adventure #staysafe on huakaʻi, mauka to makai.
June 7, 2020: It was a privilege to sit down and spend a Morning in Mākaha with amazing Ocean family, ʻOhana DeSoto. Duane DeSoto is a legendary surfing champion and the founder of @NaKamaKai, an outstanding partner and inspiration for Huakaʻi: Mauka & Makai.
June 6, 2020: Hawaiʻi Beach Safety offers this information about Mākaha Beach via John Clark: "Mākaha ("fierce") is the name of one of the largest valleys on the Oʻahu's leeward coast. Mākaha Beach Park, a narrow 21-acre park, lies on the shore of the valley. The park and its sand beach are bordered on the west by Kepuhi Point. Kepuhi, or "the blowhole," is also known as Mākaha Point.
June 4, 2020: @oceansafetyohana is excited to launch Huakaʻi: Mauka to Makai at Mākaha this week at the beginning of World Ocean month. The sun just dipped back into the ocean here on Oʻahu, but we watched it rise over Mauna Kaʻala and the Waiʻanae mountain range this morning as first light hit the beach at Mākaha Beach Park.
June 5, 2020: We had the privilege this week to talk story with Keoni Keaulana, of the legendary Keaulana ʻohana. In this Mākaha community that is home to many of the best watermen and waterwomen in the world, Keoni and his 'ohana remind us all of the rich legacy of Hawaiʻi's ocean and surf history and culture – and the importance of stewardship and sense of place.
June 3, 2020: We love mapping! For the next 4 weeks Ocean Safety 'Ohana is celebrating World Oceans Month by going on huaka'i to 4 of our favorite places on O'ahu, and inviting you to join us. This interactive map will grow to tell the story of our collective huaka'i – all of our adventures from across the islands with a special focus on Mākaha, Maunalua, Waimanalo and Waimea. You can share your own huaka'i through our survey, and watch your story and special place show up on the map. Together we'll help each other connect more meaningfully mauka to makai, while staying safe and caring for our island and ocean home.
June 4, 2020: As we spend time in Mākaha this week on Huakaʻi, we encourage you to learn more about Nā Kama Kai, a world leader in empowering children through connections to land and sea, nurturing stewardship and love for the natural world and themselves.
As ma ka hana ka ʻike is one of the guiding values of the work we collectively endeavor as an Ocean Safety ʻOhana, we think everyone should learn and follow the KAI mindset Nā Kama Kai teaches – Know your limits, Ask a lifeguard, and Identify Hazards. Visit their site to read more about each principle.
June 3, 2020: Welcome to summer – and World Ocean Month! If you have been wondering what to do this summer as we emerge from quarantine, you are not alone – we invite you to join us in getting outside! Huakai: Mauka to Makai.